Kindergarten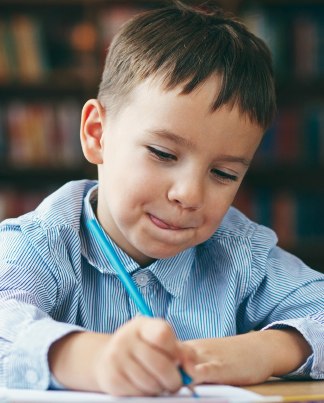 With colorful read-aloud texts, fun projects, and interactive online learning, our Kindergarten curriculum creates a vibrant learning experience for young learners.
Designed to develop the foundational skills students will need in 1st Grade, our program weaves reading and writing instruction and practice throughout the curriculum.
Using our integrated approach, students will develop critical thinking skills for reading while learning phonics skills such as rhyming and word patterns in context. These skills will be further reinforced as they begin to learn formal printing skills.
Using the research-based Singapore Math Method, our Kindergarten math course will help your students develop strong number sense, mental math, and problem-solving skills. Perhaps most importantly, these lessons make learning Math fun!
Calvert Learning provides an engaging experience for students to learn
Created for schools to guide students in a virtual or blended learning setting, Calvert curriculum includes:
Best-of-class texts and online resources from top education publishers.
Lesson Manuals with daily lesson plans and step-by-step instructions.
An online learning platform, the Calvert Teaching Navigator, that provides 24/7 access to texts, manuals, interactive activities, assessments, progress tracking tools, attendance and more.
Calvert Learning offers curriculum to schools in 2 formats
Calvert's curriculum is available in a Digital + Print Experience or Digital Experience. With the Digital + Print Experience, students will have access to online lessons with multimedia, interactive activities and assessments IN ADDITION to printed textbooks, workbooks and reading materials that complement learning. With our Digital Experience, students have access to the same texts and materials via e-textbooks and digital downloads.

See What's Included >


Icon

English Language Arts

Kindergartners learn to print and use their new skill to write about animals, their community, and create a book about weather. Children read engaging texts that introduce phonics skills and develop critical thinking.

The focus is on counting up to 100, addition, subtraction, measuring, and shapes. Students engage in projects like making a number book to teach younger students, and measuring and weighing an item to ship it to a family in need. Students write in the colorful Math in Focus workbook and learn how to access grade-appropriate digital interactives.

Students observe patterns in the natural world to answer scientific questions, construct arguments with evidence to support claims, develop and use models, and communicate solutions to provide detail about scientific ideas. They learn about weather and create a weather forecast.

The Social Studies curriculum introduces America's historical figures, symbols, and holidays. Students learn about globes and maps by making their very own treasure map. Kids are introduced to jobs and money and learn how to write a resumé that highlights their special talents.

Lessons help young learners establish a basic understanding of health and fitness.

Students are introduced to the concepts of personal safety, healthy behaviors, nutrition, communication, disease prevention, basic anatomy, and physiology.
Learn More
Have a question about Calvert Learning, our curriculum, support or services?
Call 1-844-507-5704 to speak to a Calvert representative.